Unitedwalk - a project to support independent film in CR
Written by Tomas Burian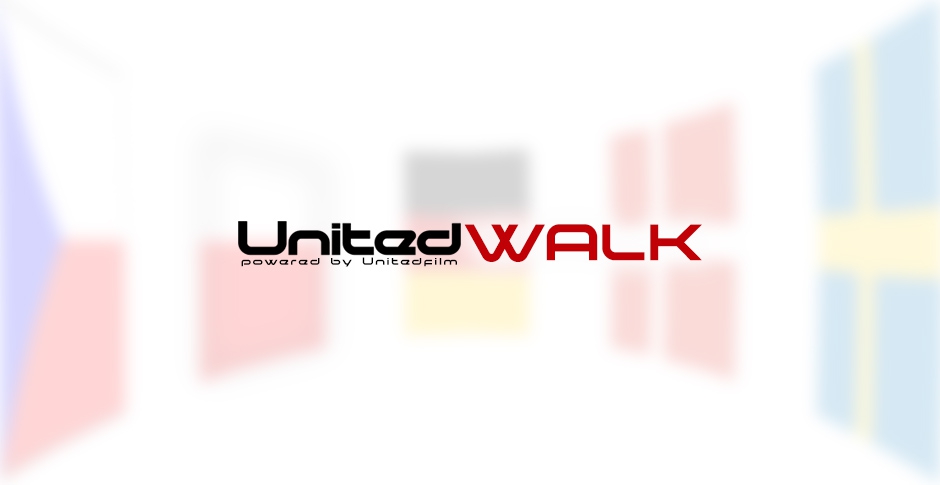 We already know the past and the present of an indie film in our country and in the USA. But how does the indie film fare in other European countries? In what way is it being created and what support does it receive from the governments and the public? And what can we do to support our indie film makers? We hope to find out through Unitedwalk.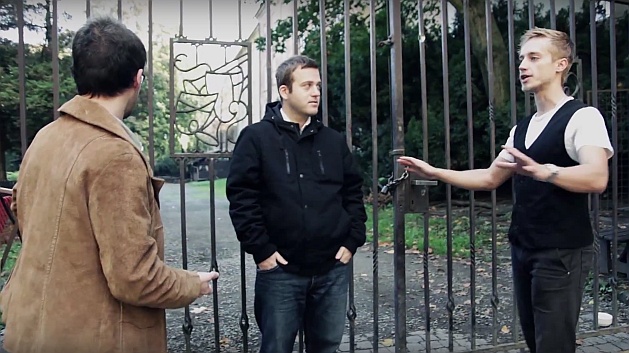 If you have read our interviews with the Czech indie film makers and the series written by my colleague, Ondrej Krejcar, about the new adventures of the indie film in CR, you have also inevitably reached the same conclusion. The indie film makers need help, help from the public and government alike. The new wave of Czech indie film has proven that it is possible to create quality movies even without a huge budget. People like Lukáš Masner, Jan Haluza, Ondřej Hejna or Daniel Zezula have films in their portfolio which could easily make it into a commercial studio's catalogue. However, in the recent conditions there is only little support for these guys who have to fight the public prejudice and small budgets. These and other problems is what Unitedfilm was made to solve. But in order to enable us to change something let us look across the borders and try to learn from others. Why reinvent something that already exists?
So we came up with a travel on foot from Czech Republic to Sweden with the road leading through Poland, Germany and Denmark - roughly 900 miles (probably many more in the end). These 900 miles will take about 3 months to walk which prevents anyone with responsibilities to go. So far I am the only one who has decided to go.
However, anyone can join this walk, should they wish to do so, for any duration. If you can't spare 3 months but would like to go for a week, no problem. You can reach me at any point of the journey by car, bus or airplane and join me for any length of the trip before you return home.
If you can't spare even a single day but still would like to contribute, you might send a financial support either to a transparent account through a bank transfer or even with Bitcoin. We will reveal more information on that later. The project is strictly privately financed, we definitely won't accept any tax payers' money which is needed elsewhere.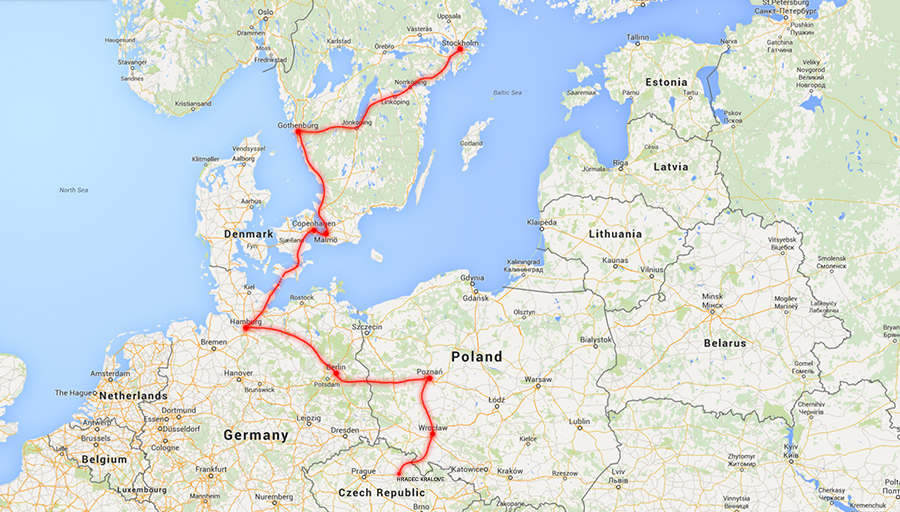 So how will the project unfold? I, or we, will walk through the selected cities of the neighboring countries, roughly following the trail depicted on the picture. There I will meet the people involved in the indie film making scene, let it be the film makers or the organizations supporting them. I will try to find out how the indie film is in their countries and whether it has any community or prestige. We will exchange contacts and information and, if possible, create a cooperation. That's not the end of it, though. Anything can happen and new ideas can come during the trip, such as the public survey; find out what people think of the indie film, whether they watch any and whether they would support it or not. There are many possibilities and they will all aim to at least spread the awareness about the independent film and finding same thinking people who would like to help it. That will inevitably sooner or later lead to improving the conditions for the indie film makers.
This whole journey will be documented, there will be a vlog on the Unitedfilm's Youtube channel where people can see what will be happening, where I will be and what I will find out. Naturally, our team will fill the social media; Facebook and Twitter. We are also exploring the possibility to monitor the passed road on an online map, just to give everyone the idea where I will be.
Unless there will be any complications, the project will start on Saturday 15th of August this year.

In summary, the goal of this project is:
- find out who the foreign indie film makers are and how they create their films.
- find out which government or private organizations support indie film abroad and how they do it.
- inform the world that even the Czech indie film makers have already surpassed the amateur scene and can produce quality films in a non-professional way.
- create cooperation, ensure mutual film festivals presence of the foreign and domestic indie film makers in each others' countries.
- exploit the information gained in abroad to improve the conditions for the non-professional film makers in CR.
- create a mutual cooperation on projects, share know-how, create together and generally build an international community which will be mutually beneficial.
- and of course, spread the awareness about the indie film in our country. Even now, during the project's preparation, many uninvolved people started to take interest in indie film.
You might find more information on the project's dedicated information page: Project Unitedwalk
We are going to progressively share more information on our Facebook page: Unitedfilm Facebook